Waltrip High School


Class Of 1967

What's New?


Not a member?
JOIN HERE
Find and click on your name.

Anyone know where is her sister Sherrie?...
Julie, so glad to see you have joined the website. Remember you well. Are you still in the Houston area or elsewhere? I'm up in Spring/Woodlands area off 45. Been up here since '74. Getting too busy for me, though. Hope you are well. Love to hear from you. Will check fb for you, too.
Becky, remember you fondly. Think we had classes together fairly often, probably home room, too. I live in the Spring area and retired in mid '17. Was impressed by 11 grand children. You are very fortunate. I go to church up here and love our group. Small church family and several besties, 6 dogs now and tons of potted plants and two acres keep me hopping.
Posted on: Jan 20, 2020 at 12:06 AM
Happy Birthday Butch! All the best to you, and may you have a wonderful, healthy and happy year ahead!
Posted on: Jan 19, 2020 at 6:10 PM
Butch, hope you're having a grand Happy Birthday today. Make it great. Enjoy.
A belated Happy Birthday, Clara. I was in S A in October to see Jeanne Robertson at Tobin. You should check her out on YouTube. What a riot. Humorist. Tells stories about friends and family. Too funny.
Arlene, a belated Happy Birthday to you, my dear. Pray it was a good one.
Posted on: Jan 14, 2020 at 7:39 PM
Judy, pray you've had a wonderful blessed Happy Birthday today. I remember that face from school. So sweet.
Debbie, hope you've had a blessed Happy Birthday today. I remember you from school. Beautiful. Bet you still are. How did your house in Sargent turn out?. Do you do any fishing?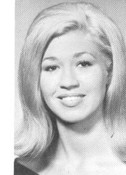 Sandee, I'm very impressed with y'all's dancing. Do y'all have any videos? Would love to see. Y'all look wonderful. Live it up. Enjoy.
Sylvia, have you been on any more big trips? Hope you will have a blessed Happy Birthday today. Enjoy with family and friends.
Kathleen, pray you have a blessed Happy Birthday today. Would love to see new pics of your grands. Enjoy your day.