Waltrip High School


Class Of 1967

What's New?


Not a member?
JOIN HERE
Find and click on your name.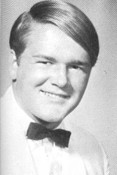 Posted on: Mar 05, 2019 at 12:07 PM
Happy Birthday Jerry ! I'm also coming up on a Birthday ! One on the 18th of this month and my other Birthday on August 7th (30 years) !
Happy Birthday Don ! Hope you have a good day ! ! !
One of my Facebook Friends posted this and I thought I share it for those who might not be familiar with this comedian.
Happy Birthday Luv ! Always good to hear of someone enjoying another year of life ! I hope your upcoming year will be GREAT ! ! !
Dan, I was recently visiting with one of our classmates, Richard Weirich, and he showed me his "Boot Camp" yearbook, for lack of a better term. There you were, along with Garland Albritton, in your "inductee" pictures at Ft. Bliss ! Those were the days ! What did your MOS ultimately become ! Mine ended up being 13A10 Cannoneer. After Ft. Sill, Ok., I shipped of to the 'Nam to a combat artillery unit ('70-'71). Hopoew life has been a positive journey, so far, for you !
Welcome to the Ram Website....
Mary Lee ! How the hell are ya doing ? Happy Birthday ! An early B-Day wish, just in case I forget on that Magic Day. I talk with our ol' friend Mike Morosin, almost daily. Just a bit of trivia for ya ! At any rate Happy Birthday Mary Lee. Hope life has treated you well, all of these years !
Joe